Spanish fintech firm Bnext is releasing its B3X utility token on September 13 on Gate.io.
Freedom of money is something that everyone aspires for. Centralized financial institutions have forever enjoyed the monopoly.
These centralized institutions also control the funds where users don't have direct control of their money. This instance leads to a greater necessity for a decentralized banking system.
A decentralized financial system ensures freedom of money where users control their money. This paved the path to the rise of Bnext. It is one of the first Spanish fintech firms. Let us take a deeper look at Bnext.
Bnext in a nutshell
To set its foot in the financial system in Spain and other Spanish-speaking countries, Bnext came to life in 2017. Its main motto is to put the interests of customers above the institution. Bnext envisioned giving the power of banks back to the people.
Bnext started off as a small team of 6 in 2017 and grew to a family of +70 by today. It is a culmination of technology and decentralized banking. Bnext also raised 50 million euros since 2017. But what makes it different from traditional banks? Let us understand that in depth.
Key Bnext features
Bnext is a fintech all-in-one financial B2C platform. Here are some of the key features of the platform and what it offers.
Send and request money: Bnext allows users to send and receive money quickly. You can also request money from non-bnext users by sending them a payment link.Send money worldwide: Thanks to an agreement with Ria Money Transfer, Bnext gives you the option to send money to +160 countries, in cash or by bank transfer. Easy payment and no hidden charges: Bnext has a straightforward approach and doesn't levy any hidden charges. It also offers a card option that can be added to Google Pay and Apple Pay for making payments.Marketplace: Bnext Marketplace is one of the main products of the platform. It provides various financial and non-financial services, including loans, health, home currency purchase, etc.
That's not all. There's more to it; part from the traditional sending and receiving of money, it also allows users to buy and sell cryptocurrencies thanks to an agreement with Onyze. There is no limit on the purchase, and users get real-time price alerts and also an option to schedule purchases.
Bnext allows users to buy and sell over 13+ cryptocurrencies. For cryptocurrency purchases, Bnext charges 2.5% for the buying and selling and 0.1% for withdrawal.
B3X token
B3X is the utility token of Bnext. It was launched with the aim of providing extended advantages and support to its user base.
Ticker: B3XMaximum supply: 3,500,000,000Platform: Algorand
The token was previously available for purchase through a private offering and two public offerings. The lock-up period of the tokens is till September 13, 2022.
After September 13, the B3X token will be unlocked and it will be the first release of the token by Bnext. Users can finally take advantage of the utilities of the B3X token post the release.
With over €10.5M+ worth of pre-sale token sales, it ranks number two in terms of ICO rankings in Spain. Once the team releases the B3X token, users can buy and sell the token on the Bnext app. Users can access it from the Crypto section within the app.
It will also be available to trade on Bit2me and Gate.io, and Bnext is still working to reach agreements with other exchanges. However, only users who have their tokens on the Bnext platform will be able to benefit from the utilities provided by B3X.
Perks of holding B3X
The B3X token provides users with several perks and benefits. To access these benefits, users have to keep their B3X token with the crypto custody provider decided by Bnext.
Better rewards: Users who hold the B3X and make purchases in the app are entitled to receive a reimbursement. If you own a certain number of B3X, you will be eligible for higher discounts and get access to exclusive brands.Global transfers: Users who hold B3X tokens will receive discounts on the margin earned by Bnext in the blockchain-based global transfer system that can reach up to 90%.Better discounts: Up to 90% off the margin that Bnext earned on payments made to Ria Money Transfer points of sale in more than 160 countries. Discounts are also applicable to Bnext's profit margins from the purchase and sale of marketplace goods. The margin that Bnext earns from the purchase and sale of cryptocurrencies in the wallet of Onyze is also subject to a discount of up to 90%.Governance benefit: B3X holders can also take part in the governance decisions of the platform's future.Special access and rates: B3X holders will also get early access to new products that will be launched, as well as special rates and returns.Insured card payments: Users who make their payments using their Bnext card will be insured with a specific volume of B3X tokens.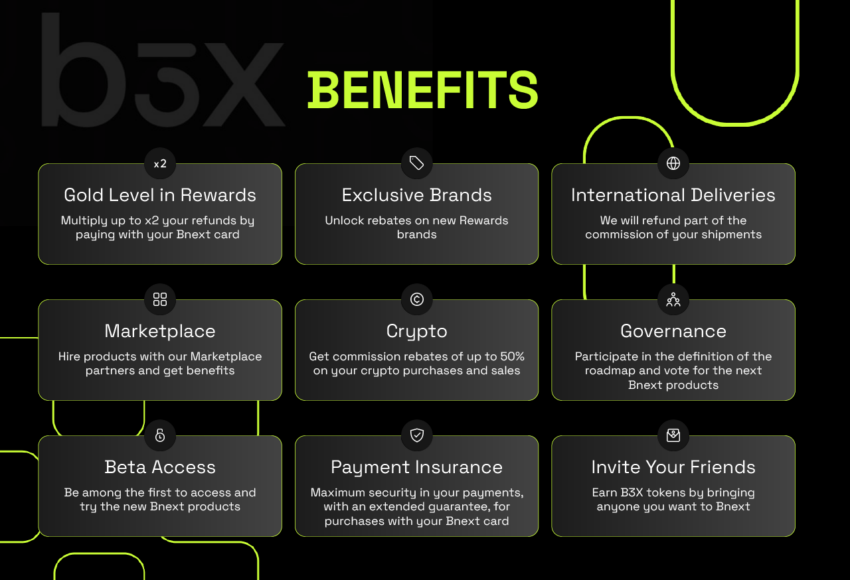 In addition, Bnext continues to work on more utilities and benefits for users. Moreover, the benefits are available on three levels:
Basic level: The basic level begins with as little as €50 worth of purchase of B3X tokens. Basic level holders will enjoy three utilities.Advanced level: The advanced level begins with the purchase of €150 worth of B3X tokens. At this level, users will enjoy five perks.Premium level: The premium level begins with the purchase of €500 worth of B3X tokens. At this level, users will enjoy all the perks of holding B3X.
Bnext and Gate.io collaboration
To celebrate the release of the B3X token on September 13, it is listing B3X on Gate.io. Through the collaboration, B3X will be available to users on the Gate.io platform.
Gate.io is one of the largest exchanges in the world, with over 1,000 crypto assets and over 12 million customers.
Final thoughts
Bnext's vision of decentralizing money control and at the same time providing an all-in-one platform is definitely useful for its users.
To serve as a benchmark in the fintech and banking industries, the company continuously assesses the functionalities of decentralized finance under the umbrella of innovation and technology.
In order to offer a trustworthy financial marketplace, it is also critical to mention that Bnext is investigating new chances for global expansion, notably in Latin American regions like Colombia.
Once the token is released on September 13, the B3X token holders will be able to avail the benefits of the token. With over 280,000 users, it has definitely attracted the trust of the users.
Legal Disclaimer: "Investment in crypto-assets is unregulated, may not be suitable for retail investors, and the full amount invested may be lost. It is important to read and understand the risks of this investment, which are explained in detail here.
Disclaimer
All the information contained on our website is published in good faith and for general information purposes only. Any action the reader takes upon the information found on our website is strictly at their own risk.