Synthetix (SNX/USD) price has done moderately well in February. It was trading at $2.8 on Tuesday, which was much higher than the year-to-date high of $1.42. This rally happened because of the successful deployment of Synthetix V3 on mainnet, which has more features.
Synthetix V3 launch
Synthetix is an important part of the blockchain industry since it provides tools that are mostly useful in the derivatives market. It is a liquidity protocol that makes it possible for people to trade all types of crypto derivatives.
February marked an important milestone for the network as the developers activated Synthetix V3 on both Ethereum and Optimism. This new upgrade will make it possible for Synthetix V3 system to back Synthetix V2 system through the legacy market. At the same time, liquidity providers in Synthetix V2 will be able to drop their positions to V3 directly.
The V3 version of Synthetix will also have cross-chain functionality and scaling mechanisms. Other upcoming features are the ability to integrate Chainlink's CCIP tool for cross-chain stablecoin transfers. Therefore, SNX price jumped as investors cheered the new developments in the network. 
Further, it jumped because of the overall performance of other cryptocurrencies. Bitcoin jumped to $25,000 for the first time in months while the total market cap of all cryptocurrencies jumped to over $1.2 trillion.
Synthetic also launched an improved version of perpetual futures. Their benefits are deep liquidity, low fees, and on-chain perps markets.
Synthetix Perps is a groundbreaking development for on-chain perps traders.

Benefits include deep liquidity, low fees (crypto 5-15 bps; gold/silver 1/2 bps; forex 1/2 bps), and 23 fully on-chain perps markets.

Learn more at SNX perps frontends 👉 @Kwenta_io & @DecentrexHQ.

— Synthetix ⚔️ (@synthetix_io) February 22, 2023
Looking ahead, Synthetix and other cryptocurrencies face a difficult period ahead. For one, they are now competing with short-term bonds, which are yielding at about 5%. In most periods, investors will hide in the safety of government bonds instead of highly risky cryptocurrencies. 
Synthetix price prediction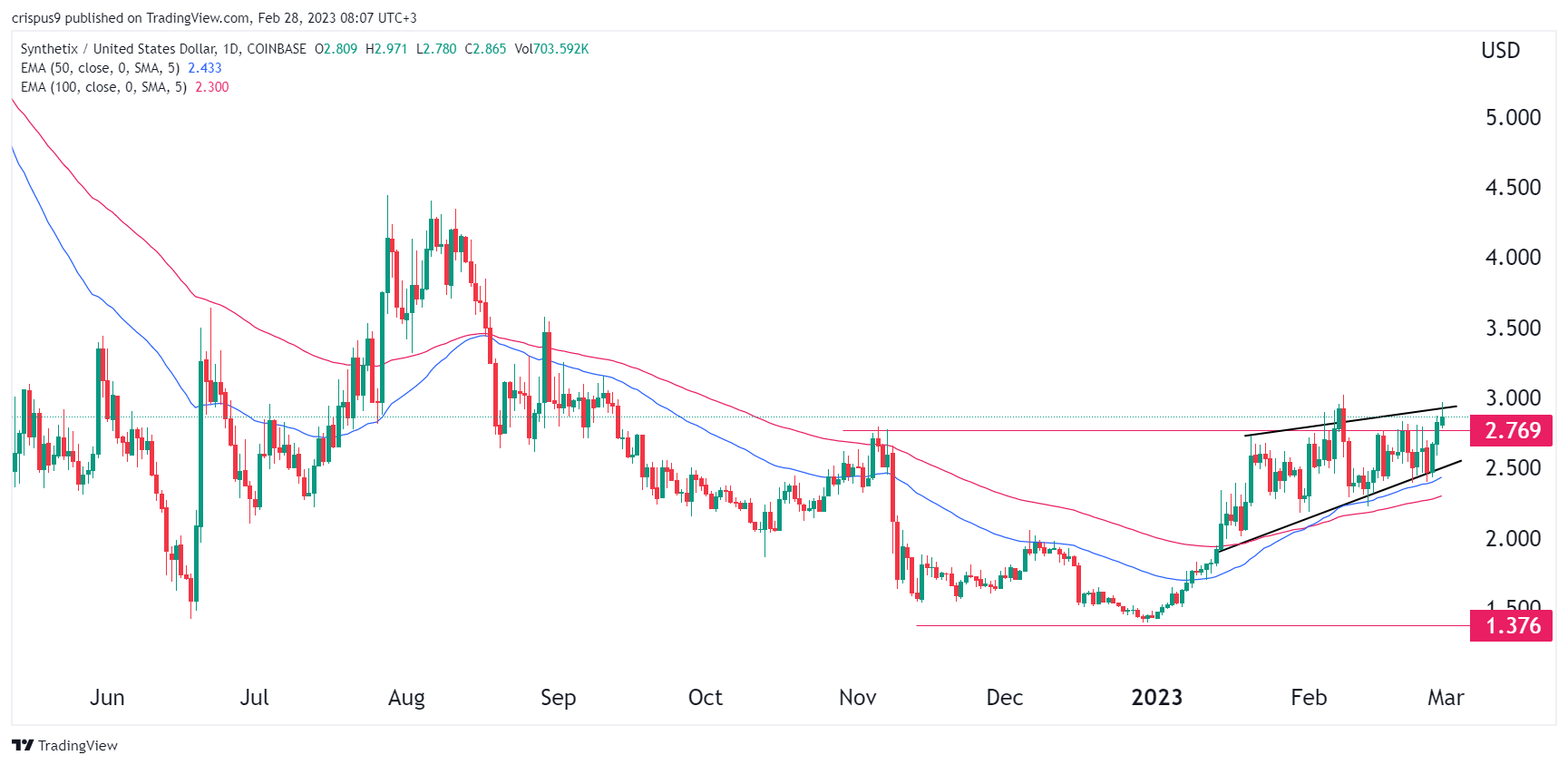 SNX chart by TradingView
The daily chart shows that the SNX price has been in a strong bullish trend since January. It has managed to cross the important resistance level at $2.76, the highest point on November 7. The coin is being supported by the 50-day and 25-day moving averages while the Relative Strength Index (RSI) has continued rising.
It has also formed what looks like a rising wedge pattern. Therefore, there is a likelihood that the coin will pull back in March. If this happens, the next key level to watch will be at $2. The stop-loss of this trade will be at $3.20.