Cardano, one of the most popular blockchains, is also a highly controversial one as concerns about its ecosystem growth remain. Some crypto watchers believe that it is a highly overvalued project while others argue it is a ghost chain. 
Is Cardano a ghost chain?
A ghost chain is defined as a crypto project that has nothing going on in its ecosystem. And there are so many such chains in the crypto industry. Some of the top ghost chains are Kadena, Velas, and XDS Network among others.
Cardano, on the other hand, cannot be defined as a ghost chain because its ecosystem is growing. For example, its DeFi ecosystem is thriving even as the crypto winter continues. Data compiled by DeFi Llama shows that Cardano's TVL has jumped to $227 million, making it the 14th biggest chain in the world.
In ADA terms, Cardano's TVL has jumped to an all-time high of over 750 million ADA coins. This growth has been driven by the rising number of DeFi protocols in Cardano and the performance of platforms like MuesliSwap, MinSwap, SundaeSwap, and Indigo.
Further, Cardano also has many users. As shown below, the network is averaging over 30k daily users. Most ghost chains rarely have any users.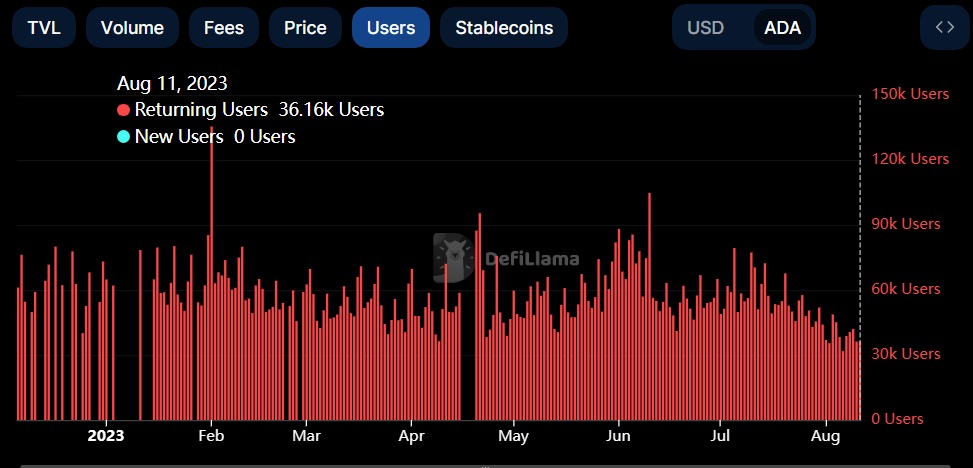 Cardano is also active in the NFT industry. Data by CryptoSlam shows that the total sales of Cardano NFTs in the past 24 hours totaled $277k, making it the eighth biggest player in the industry after Ethereum, Polygon, Mythos, Immutable X, BNB Chain, and Bitcoin.
Cardano's valuation is stretched
Therefore, we can conclude without a doubt that Cardano is not a ghost chain. Instead, I believe that Cardano is just highly overvalued. According to CoinMarketCap, Cardano is valued at over $10 billion. At its peak, it was valued at over $90 billion. 
Despite the drawdown, it is hard to explain this valuation since $10 billion is a lot of money. Its valuation means that Cardano is valued higher than American Airlines, Lazard, and Moelis. 
The biggest challenge is that the ecosystem is getting highly competitive. Most of this competition is coming from layer-2 networks like Arbitrum, Polygon, Base, and Optimism among others.
Cardano has also failed to attract the biggest players in industries like tokenization, stablecoins, and DeFi. Instead, big players like AAVE, Uniswap, and PancakeSwap have moved to L2 networks.
How to buy Cardano