Two alleged money launderers accused of processing nearly 120,000 Bitcoin stolen from Bitfinex in 2016 have reached a deal with prosecutors.
Nearly six years after the crypto exchange was hacked, Heather Morgan and Ilya Lichtenstein have entered into a plea agreement, court records showed on Friday. The married couple will now appear at a plea hearing on Aug. 3.
The Majority of $3.6 Billion Recovered From Bitfinex Hack
At the time of the initial hack, the USD value of the stolen assets stood at around $72 million. Today, they are worth nearly $3.6 billion.
As part of the investigation that led to the arrest of Morgan and Lichtenstein last year, authorities have seized the majority of the 119,756 BTC stolen from Bitfinex. On Friday, Chainalysis reported that 108,068 Bitcoin had been recovered in total.
The U.S. Department of Justice (DoJ) currently controls the stolen crypto. However, it is uncertain what the government will do with the funds upon the conclusion of the court proceedings.
In a statement commenting on the seizure of a significant portion of the stolen Bitcoin last year, Bitfinex said it would fight to secure its ownership of the assets. If it succeeds, the exchange will use 80% of the recovered funds to repurchase and burn LEO tokens.
Should this happen, it would likely drive the price of LEO up. When news broke that most of the stolen Bitcoin had been recovered, the price of LEO surged more than 50%.
Closing the Net on BTC Laundering Operation
The arrests of Morgan and Lichtenstein and the seizure of assets stemming from the Bitfinex hack were the result of a joint investigation by U.S. law enforcement agencies. 
Following the trail of stolen Bitcoin required a combination of on-chain analysis, cooperation with numerous crypto exchanges, and real-world investigations.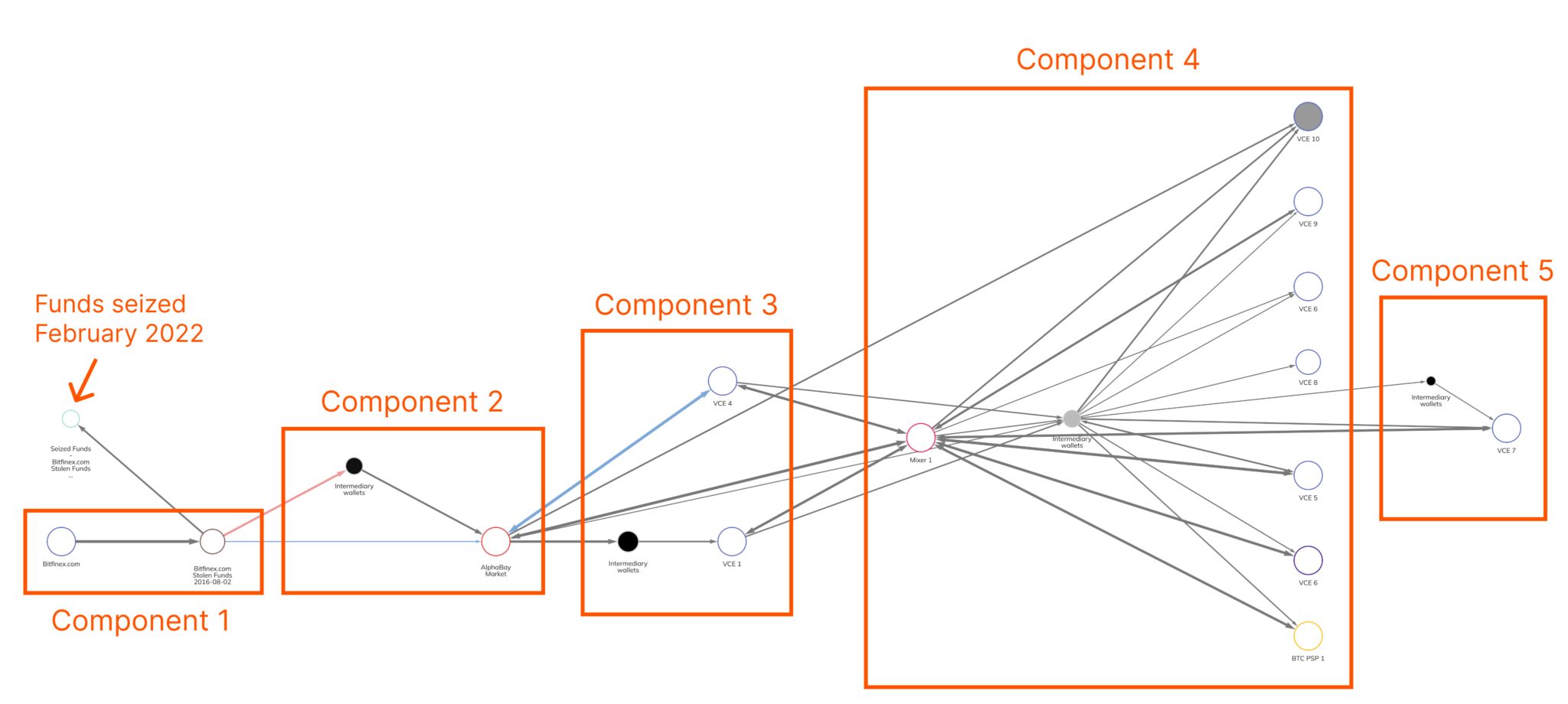 The criminal complaints against the accused parties allege that they employed a complex and multifaceted strategy to launder proceeds. This included the use of false identities, multiple exchanges, thousands of Bitcoin wallets, cross-chain cryptocurrency swaps, crypto mixers, and a darknet market to obscure the passage of funds. 
Such scenarios are typical in the world of money laundering. The cat-and-mouse game between law enforcement and money launderers plays out as a technological arms race.
And while privacy advocates have defended crypto mixers like Tornado Cash, authorities condemned them for their role in money laundering.
For instance, Europol took down the ChipMixer crypto-tumbling service earlier this year. The cross-border law enforcement agency claimed ChipMixer facilitated the laundering of 152,000 Bitcoin before it was dismantled.
Busted by a Walmart Gift Card
Despite the high-tech nature of contemporary crypto laundering, In the end, it was the point at which the Bitfinex money launderers attempted to offramp into fiat that appears to have incriminated them.
As detailed by Chainalysis, a Walmart gift card redeemed by Morgan, also known by her rapper alias 'Razzlekhan,' provided a crucial clue.
Initially, investigators identified gift cards purchased with Bitcoin that could be traced back to the Bitfinex hack. One of these, a Walmart gift card, was redeemed through an iPhone app under an account in Heather Morgan's name. 
From there, agents were able to get a search warrant for Lichtenstein and Morgan's home and cloud storage accounts. Having obtained access to an account controlled by Lichtenstein, investigators found private keys for a digital wallet. One of these directly received funds stolen from Bitfinex.
Disclaimer
In adherence to the Trust Project guidelines, BeInCrypto is committed to unbiased, transparent reporting. This news article aims to provide accurate, timely information. However, readers are advised to verify facts independently and consult with a professional before making any decisions based on this content.